Del Mar Design Goes All Out
This week we are profiling Del Mar Design's nomination for the 2017 Key Awards.
DESIGN NAME:
Van Cleef Hair Studio – VanCleefHair.com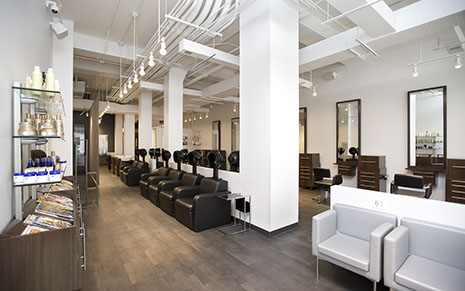 PROFILE:
Van Cleef Hair Studio's passion for excellent service has earned them the reputation of being one of the premier multi-cultural salons in Chicago for more than 25 years. At Van Cleef, an expertly trained stylist is the architect of a great haircut. Excellence in technical and artistic precision are standard requirements at Van Cleef Hair Studio. Michael Rahni Flowers, the main stylist, puts customer service ahead of everything else. Some of his clients include Michelle Obama, Carol Mosely-Braun and Allison Payne. Van Cleef is highly respected and a leader in its industry.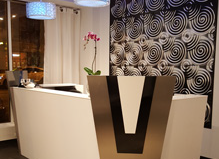 TEAM MEMBERS:
Builders: Del Mar
Interior Design: Ryan DeYoung, Michael Rahni Flowers, Daryl Wells
Partners by Design Architects: Karen Rick and Juan Lopez
Construction Consultant: Mike Hudek
DEL MAR'S MISSION:
Ryan DeYoung and Del Mar, design and build from the soul. They work within each client's means yet bring forth innovative and advanced techniques to build aesthetically pleasing and efficient designs. Last year Ryan was recognized and awarded for excellence in designing and building a custom stairway. Del Mar takes pride in its art and works together with their client's staying true to unique designs and visually appealing structures.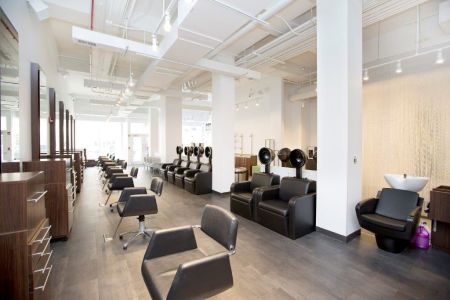 RESEARCH ABSTRACT:
Research done was on contemporary design and ergonomics. What design suites the consumer best? How to create an interactive design that emotionally speaks to the client? Which design would help the staff to comfortably and freely interact with the client?
STYLE:
Contemporary design is about simplicity. This motif was chosen as the attention is upon the client. The design was modeled towards the consumer's needs: open space creates a welcoming atmosphere and direct lines created by the custom made furniture, flooring pattern and custom bent piping guide the client from one station to the next. A hand crafted beaded wall adds dynamics and artistic style to the space. The white interior and lighting draws attention to the client, which is the design's main intention and focus.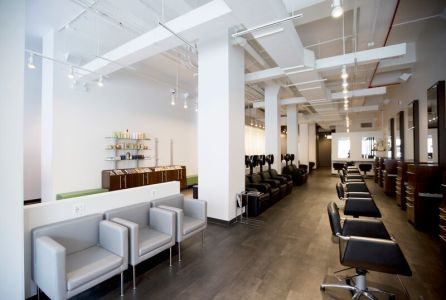 PROJECT DURATION AND LOCATION:
The project started in December 2016 and finished in February 2017. Chicago, IL.
FITS BEST INTO CATEGORY:
Interior Space and Exhibition Design
CHALLENGE:
One creative challenge was masking the bathrooms. The existing bathrooms opened out onto the main area of the salon, and could not be relocated. Adding a wall to hide the entrances did not seem like a good design choice, and would have made the space feel much smaller. In order to provide a sense of privacy, we instead hung an 18 foot expanse of 10.5 foot high shimmer screen, finely beaded metal curtain. While achieving its purpose, the beaded curtain illuminates the space and moves with the airflow to create a visual art piece.
WEB SITE: